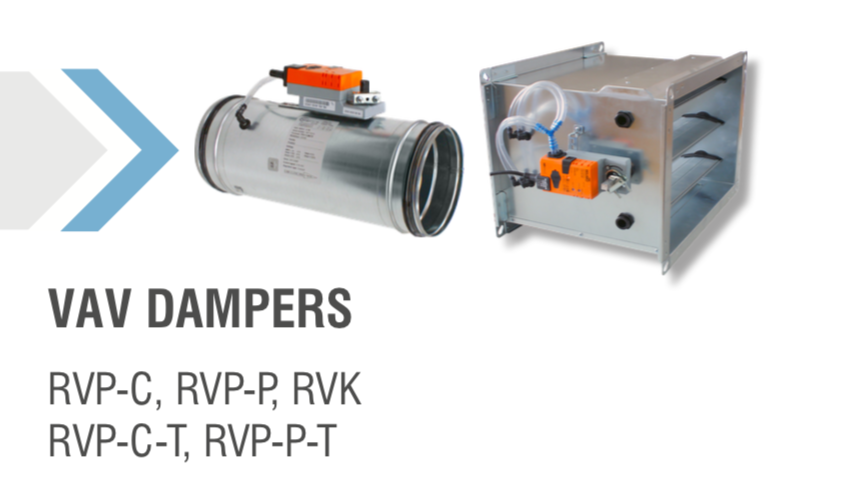 For the majority of applications for air control in commercial buildings, it is recommended to select a regulator that handles a maximum volume equal to 6-8m/s velocity across the flow grid. The minimum controllable volume will be 1.5m/s and therefore a turndown to 20% will be achievable.
Some specifications call for a turndown to 10% of maximum; this would require that the maximum velocity is 13m/s, which would risk excessive regenerated noise.
Variable volume boxes having integral attenuators are designed with an internal geometry which reduces the velocity through the attenuator by a factor of circa 2.5 to 1.
When selecting stand alone regulators, either circular or rectangular, note that any adjoining attenuator will require a maximum velocity of 4m/s which means either limiting the maximum velocity through the regulator and thus limiting turndown to 2.5 to 1 or allow for a transition piece between regulator and attenuator.
Occupancy levels in modern buildings are increasingly variable, which has a significant impact on the prevailing internal load.
In addition to providing instantaneous local control, the VAV system, including air handling plant, chiller etc can be selected based on the number of occupants in the building at any particular time rather than on the sum of the individual zone maximums. This "maximum simultaneous load" approach can reduce plant sizes by up to 30%.
Advanced Airflow Solutions are UK distributors of Klimaoprema VAV & CAV regulators and have an extensive list of UK reference projects. Download the product brochure for Klimaoprema RVP and RVK regulators here.
Need assistance with selecting VAV units? Get in touch here.
Read more